April 25, is a full moon. Over in the Garden, Grace asked us to tackle a poetic form called Lune. Grace tells us Lunes are small poems with the syllable count 5-3-5. Each Lune has thirteen syllables-one for each month of the moon's year.
Robert Kelly Lune:
Robert Kelly, an American poet,
invented the Lune poetry form. He felt that adhering to the strict form of Japanese haiku (5-7-5 syllables) in English creates a different poem than the Japanese intention. He invented the Lune to remove these differences, and the only requirement is the 5-3-5 syllables. There are no other rules i.e. no need
for a cutting word or punctuation. Rhymes are fine; subject matter is
wide open.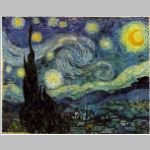 Vincent Van Gogh